The following chart shows the value of Apple's cash and cash equivalents for end of 2010: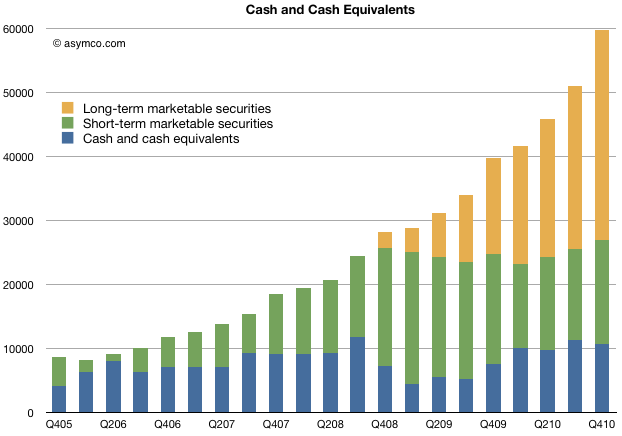 This represents $64/share (current price per share is about $340, making the enterprise value about $276).
The company was trading at $64 per share in July 2006.
Here is a list of iconic companies whose market cap is less than Apple's cash.
Visa Inc. $59.63b
American Express Company $55.8b
The Boeing Company $53.16b
Morgan Stanley $43.5b
The Dow Chemical Company $41.8b
NIKE, Inc. 40.22b
Eli Lilly & Co. $40.12b
Texas Instruments Inc. $40.92b
Nokia $39.92b
News Corporation 37.72b
I would also make note of the trajectory of the cash. Growth is accelerating. The last quarter Apple added $8.7 billion in cash. A year earlier it added 5.8 billion and the year before that $3.6 billion.
The amount of cash added is more than the amount of cash the company had five years ago.
In 2010 the company added $20 billion to its cash reserves. In 2009 the company added about half that amount.
If the trend continues, Apple could see $100 billion in cash by this time next year. That's about what HP is worth now.