The mobile phone market is growing rapidly. It grew 18% in the last quarter. The smartphone market grew even faster, about 75%.
To grow share in this market means growing even faster than the market. What we can see from the following charts is how the iPhone as a product grew in share since it was launched 3.5 years ago: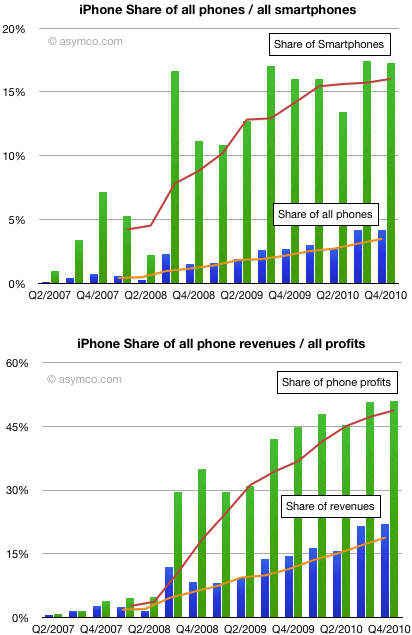 Unit share growth slowed in the last quarter but the fourth quarter is not usually the most expansive for Apple. That is usually the third quarter which is the first full-availability launch quarter.
The iPhone ended the quarter with 17.25% smartphone share and 4.2% phone share. Share of revenues was about 22% and share of earnings was about 51%.
I still hold that 20% smartphone share is possible for the iPhone. As the smartphone market slowly becomes the entire phone market (see chart to the left) that share will be worth something.