Apple is having difficulty meeting demand for the iPhone and the iPad. It is growing both businesses at more than 100% and they make up about 65% of revenues, and 71% of profits. The Mac business is also growing at 2x to 3x the PC industry.
Being supply constrained makes it therefore a great challenge to forecast future growth for the company. Supply issues and ramp rates are needful of an operational expertise few possess outside of the industry. But many take up this challenge, myself included. We put up our numbers every quarter and get scrutinized and challenged for our failures.
So it's always exciting to see how others are looking at the big picture. Sadly, with the growth data being what it is, there seems to be a great deal of pessimism around the company's prospects. The P/E ratio has remained at despondent levels for over two years, barely tracking with the P/E of the S&P 500 and not reflecting the company's historic or current growth.
The logical explanation is that pricing reflects a consensus that growth will fall off a cliff. Indeed this can be confirmed. Bloomberg surveyed analysts and they say:
Apple's sales may climb 54 percent to $100.3 billion this fiscal year, which ends in September, the average prediction of analysts surveyed by Bloomberg. Growth may slow to 18 percent the following year.
Fifty percent growth this year and 18 percent next year is indeed catastrophic. Consider the company's recent history as shown in the following chart: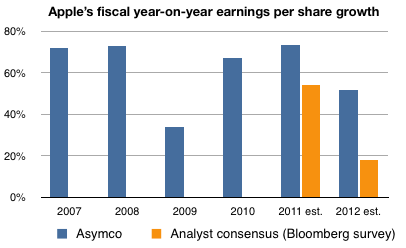 The company has been growing earnings around 70% a year since 2007 at least. The exception being 2009 when in the middle of the worst recession for a century the growth dropped to 34%.
I took the liberty of adding the estimates cited above to the chart (in orange) while putting forward my estimates for the same time frame.
I am, I believe, conservative in my estimates (for example, my estimates do not take into account any new product categories Apple may launch). But the prospect of 18% growth for the fiscal year beginning this October is quite hard to justify knowing what I know about the markets Apple competes in. As I've amply described in this blog, the mobile computing (aka post-PC) shift is underway and Apple is leading the charge. The prospect of billions of unserved customers beckons and Apple is crushed with demand.
But let's not quibble about billions of desperately underserved consumers. The thing that sticks out from the chart is that analysts are forecasting growth about half of what Apple was able to achieve in 2009–a time when consumer spending practically stopped world-wide and there was talk of another depression.
Either they're in agreement that we're in for something resembling a global plague starting in six months or they believe Apple is singularly positioned to drop the ball.
I would love to hear some these scenarios defended because I see no evidence for either.