Apple's second calendar quarter was a record breaking performance. This is surprising because it shows super-seasonal performance. For as long as I can remember the fourth calendar quarter (i.e. holiday) was always the strongest quarter, by a large margin. This quarter was higher than the last holiday quarter. A glance at the following chart shows the anomalous performance: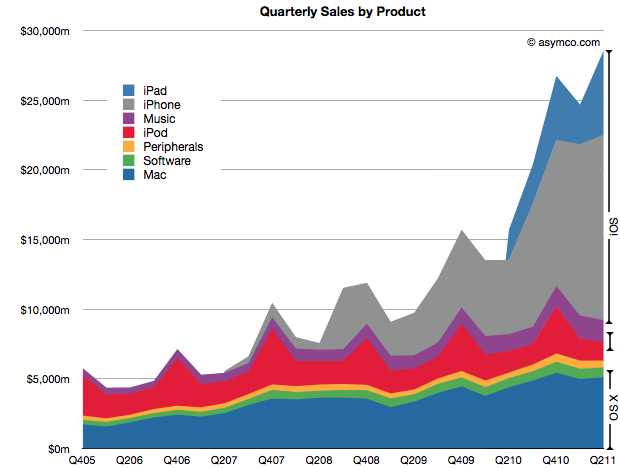 iOS products make up 71% of sales (and at least 78% of profits) which makes the following growth scorecard a bit moot.

The growth in iPhone sales of 150% is hard to understand given the previous product cycle, but more about this later. The 122% growth in profits is (nearly) unprecedented. The growth in Q3 2008 was due to the launch of the iPhone 3GS and since there was no iPhone launch this quarter the growth shatters existing assumptions about the franchise.
The pattern in the table above is shown in the following chart: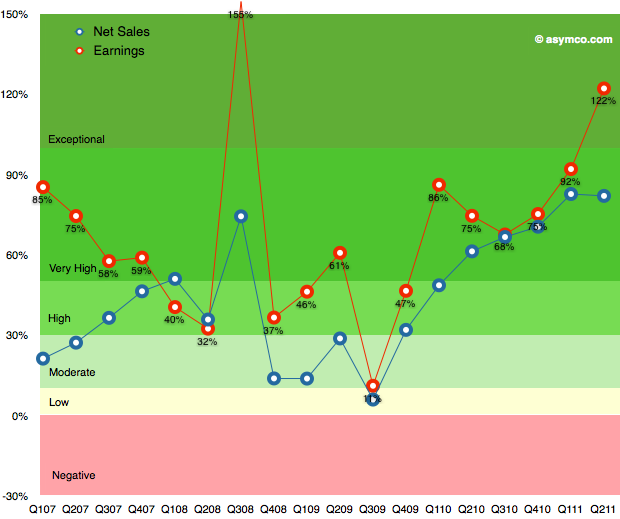 This performance needs to be digested and contemplated a bit longer but I will make one early conclusion: One of the most common themes during the last year was that Apple's growth rate was unsustainable. The theory cited was one of the "law of large numbers". Apple's performance shows it to be nonsense.
Instead of decelerating, Apple's growth is accelerating.