LG's market position seems precarious. I first noted LG's predicament about a year ago: LG dreams of smartphones [Updated] | asymco
LG lost profitability in Q3 2009 and has not recovered it yet nor can it say when it might.
In a recent article on analyst reactions the prospect of LG's exit from handset sales is raised:
LG's handset division is the company's biggest capital sinkhole and the shares have more than halved this year, making it the worst performer even when compared to HTC and Nokia.

"Selling the loss-making business is probably what investors want," said Harrison Cho, an analyst at KB Investment & Securities. "But even with that option, LG wouldn't get much from the sale. They should have sold it long ago before the overall landscape got tougher."

"They simply missed the boat," said Cho.

The dire business outlook had already pushed LG shares below their book value to a record-low multiple of 0.9 times its book value, much cheaper than Research In Motion's 1.6 times, Nokia's 1.1 and HTC's 8.2.

That's a huge discount for a company that is also a global brand in television and home appliances.
Analysis: LG faces tough choices for mobile phone division – Yahoo! Finance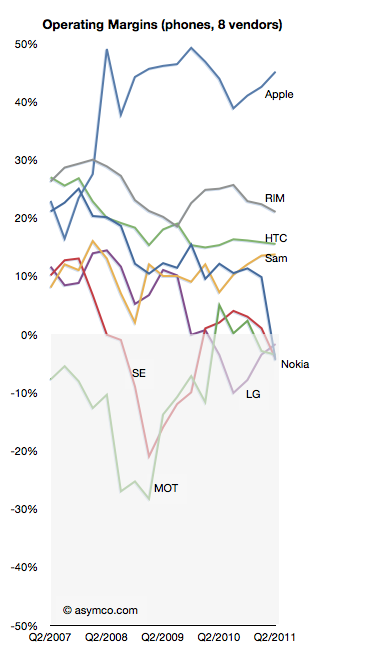 As I like to point out it's unlikely that management failure is the sole cause for this problem LG finds itself in. If it were, then why did Nokia, Sony Ericsson and Motorola find themselves in trouble at the same time?
But putting aside the causes, the prospect of another tier one vendor becoming a victim in a booming market speaks volumes. Only Samsung remains largely unscathed, though I believe they are not immune. The shift in profit capture that I have been documenting is plain proof that the industry is undergoing permanent structural changes.
As the chart to the left illustrates, the plunge into negative margins is difficult to reverse. The only advice for LG today (besides breaking itself up) is:
"What LG can do at this point is keep doing what it can do best; keep upgrading its hardware offering, differentiate them and then diversify away from Android to Microsoft's Windows phones," said Jung Kyun-sik, a fund manager at Eugene Asset Management in Seoul.
I suspect however that diversifying into multiple platforms will not be particularly differentiating as every other vendor will do the same.