On October 4th, Tim Cook will take the stage at Apple's fall event. With Steve Jobs' transition to head the Board of Directors of Apple and after serving as CEO for fourteen years, it is time to take a look at his reign.
Looking at his performance vs. peer companies from a capital market performance, I have composed the following two charts:
Market capitalization of selected peer companies by calendar quarter in USD million sorted by most recent market capitalization (1997-2011)
Market capitalization as share of combined market capitalization by calendar quarter sorted by most recent market capitalization (1997-2011)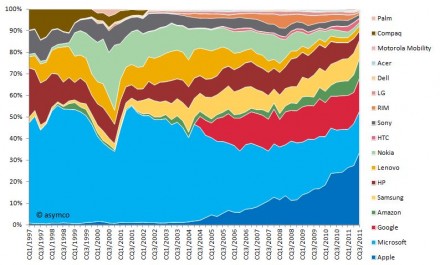 You will note that I included more companies than in previous analysis. The new additions are:
Compaq (acquired by HP in 2002)
Palm (acquired by HP in 2010)
Amazon (a popular request by readers)
I divided this era into three distinct periods:
Restructuring of Apple 1997-2000
In the beginning of 1997, Apple's market capitalization was lower than almost all of its peers. In absolute terms the market capitalization moved only slightly upwards towards 1999 and the dent in 2000 is significantly lower compared to the market capitalization increase of other companies, first and foremost Microsoft's. Especially in the early part of this period restructuring and streamlining efforts took precedence. The introduction of iMac in 1998 and the iBook in 1999 set the tone in terms of design, quality and "thinking different" for many years to come.
iTunes era 2001-2006
With a stable core business and healthy profitability, Apple introduced the first iPod in October 2001 complementing the earlier introduced iTunes music player. Two years later, Apple introduced the iTunes Store offering downloadable music for the Mac and Windows operating systems. The venturing into the music and portable music player business and the halo effect for the Mac business is reflected in the market capitalization increasing significantly during the following years surpassing HP and Nokia.
Mobile iOS devices 2007-2011
Market capitalization further increased with the entry into the smart-phone market in 2007. Note that market capitalization of all selected companies combined at that time was as high as in the dot.com era of 2000. But this time Apple accounted for more than 10% of it. From 2008 to 2009 market capitalization of all companies declined severely due to the financial crisis. Rapid recovery followed during 2009 and early 2010. Apple introduced the iPad in March 2010 further fueling its rise to the top, surpassing Microsoft's capitalization and topping Exxon Mobil as the world's most valuable listed company.
During the time of Steve Jobs as CEO, Apple's market capitalization increased on average by 42% every year–an unprecedented track record. According to his own admission, Steve Jobs became CEO when Apple was 90 days away from bankruptcy. He resigned 14 years later after leading Apple to becoming the most valuable listed company in the world. From a value creation point of view, it's hard to think of a better performance from anyone, ever.