The following graphs show text messaging volumes, pricing and revenues for SMS in Spain.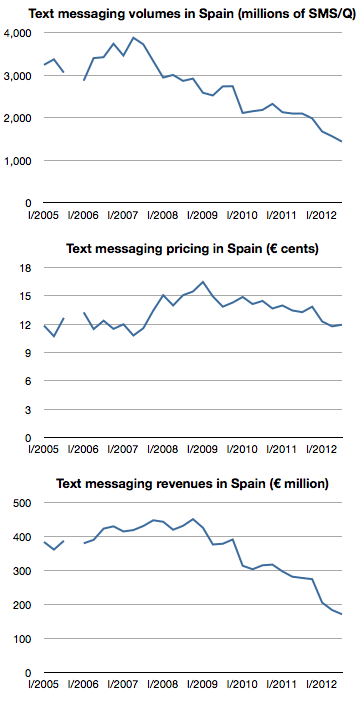 After peaking at the end of 2008 at about €450/quarter, revenues have fallen by 60% to about €171 million in the third quarter of 2012. These figures represent almost 100% operating profit for operators so the impact is felt directly in the bottom line.
The culprit is IP-based messaging. Services like Whatsapp, iMessage and even Facebook offer "free" messaging to users who have a smartphone and a data plan. I've been told that 97% of Spanish smartphone users have Whatsapp installed. In some markets this "free" messaging is offered via BlackBerry Messaging.
The decline in SMS is coupled with a vast increase in IP-based mobile messaging. Whatsapp reported that it set a record of 18 billion messages processed over New Year's Eve. In October Apple announced that iMessage had delivered 300 billion messages during the preceding 12 months.
Globally SMS traffic is still rising. It's expected to reach 9.6 trillion in 2012, but at least one analyst forecasts  that SMS's share of global mobile messaging traffic will fall from 64% in 2011, to 42% in 2016.
The data from Spain suggests that the drop may happen more quickly than anticipated.