Yesterday Tim Cook spoke at the the 2013 Goldman Sachs conference:
There's no better place to discover, explore and learn about our products than in retail. It's the retail experience where you walk in and you instantly realize this store is not here for the purpose of selling. It's here for the purpose of serving. I'm not even sure "store" is the right word anymore. They've taken on a role much broader than that. They are the face of Apple for almost all of our customers

Last quarter, we welcomed 120 million people in our stores.
We only have a little over 400 [stores]. Last year, we welcomed 370 million into the stores.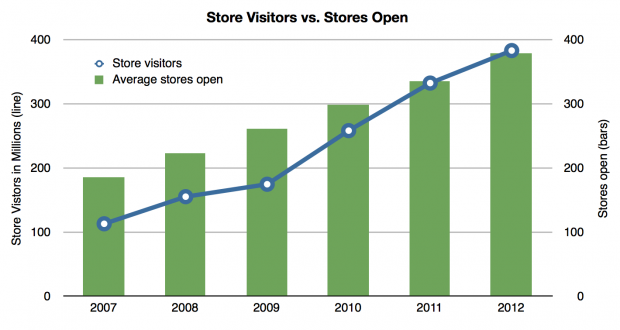 We're closing 20 of our stores and moving them and making them larger this year. And in addition to that 20, we're adding 30 more. Those 30 will be disproportionally outside the U.S. That gets us in 13 countries.
And so I'm incredibly bullish on the stores. We're going to continue to invest like crazy in them.
Our team members are the best in the world. And the financial results are great.
Average store last year was over $50 million in revenue.

Who would've thought a store could do that?