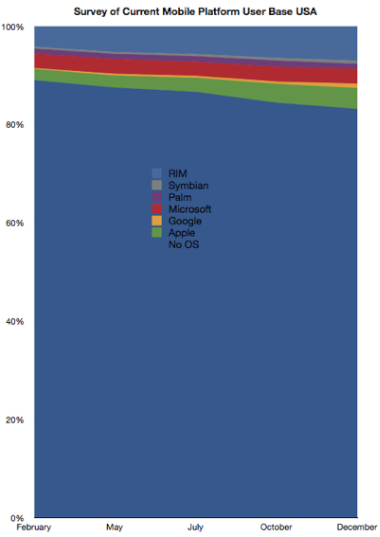 Comscore revealed their latest survey resultsfor the US mobile subscriber market. From the latest data and the data previously released in October we can put together a few insights.
The number of smartphone users increased by 3.2 million, growing at over 1 million new users per month.
Apple and Android added about 1 million users each. RIM added 1.4 million with Symbian adding about 200k users. Palm lost 441k users and Microsoft lost about 44k users.
Non-smartphones lost 2.1 million users and 1 million subscribers were added to the top line.
The non-smartphones lost 1% share in the quarter and 6% since February. Smartphones make up 17% of all users.
Google has overtaken Symbian to rise from last place in the platform installed base and is closing on Palm.
At 5% share erosion per year, the non-smartphone market will completely disappear in about 14 years, though I feel 10 years is a more likely target with 5 years until the market is 50% penetrated.