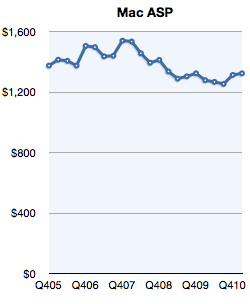 The Mac grew at 28% while the overall PC market contracted at 3%. The Mac has outperformed the PC market overall for 20 consecutive quarters.
Prices increased sequentially and year-to-year.
I've mentioned the increasing shift of Mac mix to portables as a possible reason for the growth of the business. The Mac was one of the first to move to a portable form factor and has been pushing portability over performance for many years.
The following chart shows the relationship between growth and portable mix: