The pattern of Mac growth exceeding Windows PC growth (and overall PC growth which includes the Mac) is old news. It has been observed for at least 40 of the last 42 quarters.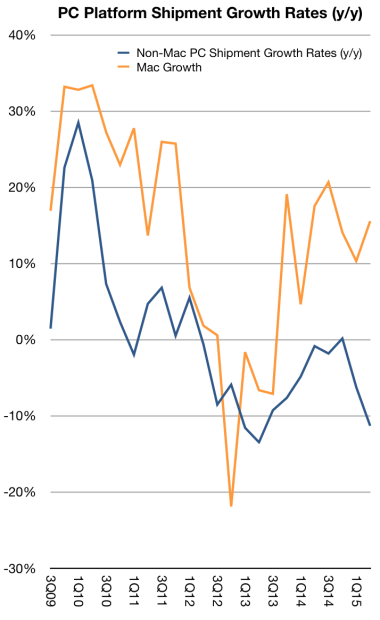 It's a historically interesting contest, but the story of computing has moved on.  Starting with building computing, via floor computing, office computing and then to desktop computing and portable computing we are now in the era of mobile computing.[1]. The problem with observing mobility in general is that there are too many mobile computing options. Phones have a wide range of capabilities, tablets and various other form factors are positioned on differing jobs-to-be-done. Platforms and services are also scattered around jobs which have been carved from fixed computing or have been established with no fixed precedent.
So can we pinpoint with any accuracy the moment when the tipping point has been reached? We could point to all mobile phone shipments, or even the vaguely-defined smartphone shipments compared to all PC shipments. We could look at tablets alone. If we could get accurate measurements.
One measurement could be to look at operating systems alone. When comparing iOS shipments (iPhone, iPad and iPod touch) to Windows we can see that combined iOS shipments exceed all Windows PC shipments for all three previous quarters.
Notes:
And as sure as the sun will rise tomorrow we will move beyond mobile computing [↩]