Nov 9, '15 10:31 AM
On a future filled with autonomous Winnebagos.
Oct 26, '15 9:57 PM
Since writing Peak Cable six months ago, surveys, research and analysis have contributed to the themes of unbundling the TV package. The data under scrutiny is, as usual, the data that can be gathered. Unfortunately the data that can't be gathered is where the insight into what is happening may lie. For instance, what matters for an entertainer is not how much you're watched but how much you're loved. Measuring love is done poorly with data on payment for subscriptions.
A better proxy might be time. Liam Boluk makes the point in his post that "focusing on cord cutting or even cord shaving largely misses the point." Don't follow the dollars, he says, follow the time or engagement. "Relevance" is what matters.
His data shows how linear TV has fallen by roughly 30% among the young (12-34) in the last five years. The trouble for the TV bundle (and advertisers) is that this is the most culturally influential group. They are also the group which will grow into the highest income group over the next decade. And this group does not love TV.
We have to remember that it was the youth who drove early radio, TV and consumer electronics markets. Those young are now the old which still cling to the old media, served by companies that grew old with them. They are the "high-end" customers with which Nielsen itself has grown. They have the most money to spend and they are the targets for the ads[1]
Paying $150/month to watch incontinence and erectile dysfunction ads—at a time not of your choosing—is preposterous for the young. They may like the programs but not the way they are packaged, delivered or interrupted. They are not smarter than their parents. They, like their parents, took to new technology more quickly. What makes the technology new is also what lets its makers separate the content from its delivery. These new technologies allow "modularizing" or unbundling that which was was integrated/bundled and thus allow their developers to focus on the customer's real jobs-to-be-done.
Unsurprisingly, incumbents have responded by throttling access to original programming–an asset over which they still exert influence as distributors. Netflix and Amazon are taking the path of responding with their own blockbuster productions. Although Silicon Valley has more capital to deploy than Hollywood  this battle of attrition is by no means one that incumbents will win, and generally, it's not going to be pretty.
Tweaking the nose of the incumbent might not be the way to establish asymmetry. The better tactic may be to help the system survive but offer a "short-term alternative". This is how iTunes took on and won Music. When Napster and file sharing created a clear and present danger to the industry, Apple's approach of a controlled alternative allowed the industry to finally move to a digital download model.
Notes:
no longer the Pepsi generation, they are the Depend and Viagra and pharmaceuticals generation [↩]
Oct 19, '15 9:58 PM
We welcome Henri Dediu for an advance look at technology and the world from the point of view of the latest generation. Insights from this unique perspective and your questions on this special episode of The Critical Path.
Source: The Critical Path #162
Oct 6, '15 4:04 PM
On what it means to be great, Apple's 13 Million iPhone weekend and the iPad Pro and a lot of listener questions on the 160th episode of The Critical Path.
Source: The Critical Path #160
Oct 5, '15 6:54 PM
Eric spoke with Horace Dediu about how disruptive the new Apple TV will actually be, the nature of the media landscape, how Apple could draw viewers away over time, and the potential for live events and interactive apps. We also explore what would make a new car from Apple disruptive and why Apple didnt just buy Tesla.
Oct 5, '15 2:29 PM
Mathew Desmond of Capgemini joins us to discuss Cars Online 2015: "The Selfie Experience, The evolving power of the connected customer."
We begin with the finding that "One-half of customers are interested in buying a car from a tech company like Apple or Google. This is true even of customers who are satisfied with their current brand and dealer experience. It is particularly true of young customers (65%) and those in growth markets (China: 74%; India: 81%)."
Backing up a bit, we discuss the automaker's dilemma, that is the legacy manufacturing, distribution and support infrastructure and contrast that with the "clean slate" approach an entrant might enjoy.
The concept and inherent conflicts of a "Master Customer Record" fuels a deeper dive into "Continuity", the buyer's desire for a seamless experience.
Finally, we reflect on the perils that may lie ahead as the auto ecosystem attempts to improve the retail experience.
Listen via Asymcar.
Sep 30, '15 11:02 PM
My presentation at Aalto University in Helsinki on The Modular Revolution. This is what you get if you give me a whole hour to talk.
Sep 29, '15 1:33 PM
What makes a product great? I struggle with this question because being great is not just being better than good. Greatness is to goodness as wisdom is to smarts. Just like getting smarter and smarter may never make you wise, getting better and better does not mean ever becoming great.
Greatness is transcendental. It's hard to pin down. It inspires debate. It divides as much as it unites. It creates emotions as much as thoughts. It builds legends. It engages and persists. It lives in memory and penetrates culture. It implants itself in our consciousness persistently, to linger and dwell in our minds while we are bombarded with stimuli.
We use words such as "iconic" or "epic" to capture this permanent "mental tattoo" that we get from greatness. As important as this notion is, we struggle to define it. We don't even have a proper word for it. Perhaps it is what art tries to be, or what drives us to achieve beyond surviving. As vague a notion as it may be, it is one of the most important notions I can think of. Greatness is the cause, perhaps, of our ascent.
In the absence of any measurement of greatness, how do we spot it?
It may just be down to "knowing when we see it". But not everybody does.[1]
Notes:
Language is another indicator. When people attach brands to entire categories we get an indication of ubiquity and permanence. As much as the brand owner fears it, the genericization of a trademark is very probably an indication of greatness in consumer products. Aspirin, iPod, xerox, jell-o and app are examples where brands became words. [↩]
Sep 25, '15 11:07 AM
Here is a smart calculator you will enjoy. Unlike a dumb calculator, it lets you see math as math. Typing is completely "what you think is what you type". Everything is easier. Nothing gets in your way.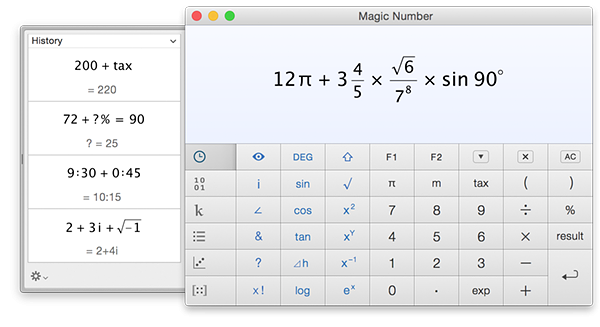 Magic Number is ideal for 'back of the envelope' calculations. Or cases when a spreadsheet feels like a truck and a traditional calculator feels like a horse.
Want to know the percentage increase going from 72 to 90?
Just type "72 + ?% = 90" and let Magic Number do the algebra.
Want to make sense of a list of prices?
Then the List feature is for you. You can see the statistics, compare prices,
and calculate their tax effortlessly.
I can go on. Magic Number is deep. But its virtue lies in its thoughtfulness.
To get a taste of Magic Number, check out this page.