Gartner sees smartphone market volume growing a whopping 46 percent from 172.4 million sold last year, boosted by cheaper models. The most affordable now cost just over $100 excluding operator subsidies.
link: Handset market rebounding in 2010: report – Yahoo! News
Anyone modeling iPhone growth this year below 50% is implying Apple will lose share.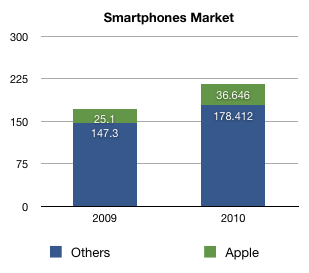 If Apple maintains market share (about 15%) it would sell about 37 million iPhones in 2010. Apple grew iPhone unit sales about 84% from 2008 to 2009.