When Steve Jobs announced 150 million accounts with credit cards on the iTunes Store, iBookstore and App Store, he stated that as far as he knows it has "the most accounts of any store on the web".
More interesting is the claim that iTunes has enjoyed 16 billion downloads.
Subtracting the 5 billion app downloads, that leads to Music+Video adding up to 11 billion (books at 5 million is still too small to make an impact.)
The last download data on iTunes was in February when Apple reported 10 billion songs downloaded. The new data implies the daily download rate is about 9.3 million per day.  The forecast I had suggested 11.1 billion by June 1 so it's come in a bit less than expected.
12 billion songs is expected in September.
The graph that follows shows actual and forecast cumulative downloads for the App Store and iTunes store based on months after launch.  As it shows, 5 billion apps took 24 months whereas 5 billion songs took 46 months.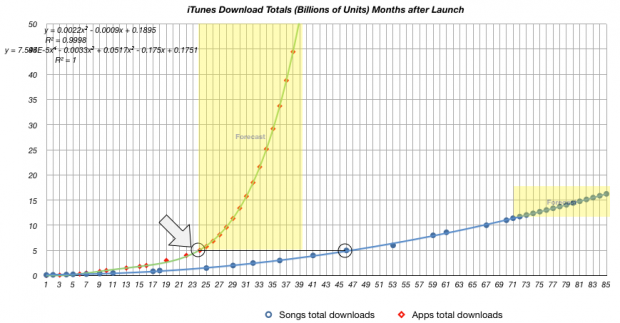 This graph shows the download rates.  The green line (apps) clearly overtakes the slowing blue line (songs/media).