Now that NYT and WSJ were both tipped off about the coming of a CDMA iPhone, I think it's a safe bet. Is this significant? What is the CDMA addressable market?
Here is a chart showing  for the "CDMA 3G" subscribers (source: CDMA Development Group.)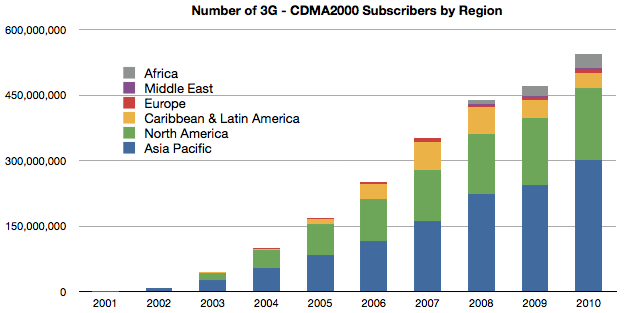 (includes CDMA2000 1X, 1xEV-DO Rel. 0 & 1xEV-DO Rev. A )
Here are the data for various subsets.
CDMA2000

543 Million

includes CDMA2000 1X & 1xEV-DO
CDMA2000 1xEV-DO

145 Million

includes CDMA2000 1xEV-DO only
CDMA

547 Million

includes cdmaOne, CDMA2000 1X & 1xEV-DO (includes non-3G)
For comparison, the GSM data for Q2 2009 is:
GSM

3,450, Million
WCDMA

256 Million
WCDMA HSPA

133 Million
It would be safe to assume that the iPhone will be able to address 543 Million additional users.  They represent about 13% of all mobile subscribers but the increase in addressable base is about 16%.