One of the details of Nokia's warning which did not get a lot of attention was the mention that profitability for the current quarter could not be guaranteed. That is to say that Nokia may make a loss, perhaps for the first time in more than a decade.
This may not be that newsworthy except for the strange fact that as far as I've been able to observe, any company in the mobile phone market that ended up losing money has never recovered its standing in terms of share or profit (i.e. AMP index value has never recovered).
Here is a list companies that have "hit the rocks" in terms of mobile phone profitability and their fates (in no particular order).
Alcatel of France. Sold its brand and operations to TCL Communications of China in 2004.
Siemens of Germany. Exited in 2005 through acquisition by BenQ of Taiwan.
BenQ of Taiwan. Mobile devices division declared bankruptcy in 2006.
Ericsson of Sweden. Exited by merging with Sony in 2001 even though third in volume share the prior year.
Sony of Japan.  Joined with Ericsson to form Sony Ericsson in 2001. Held less than 1% share prior to merger.
Motorola of the United States. Even though once the largest vendors, after a period of severe distress, Motorola spun off Motorola Mobility. Market value shows long-term viability still a concern.
Casio of Japan. Merged with NEC and Hitachi in 2010.
NEC of Japan. Merged phone units with Casio and Hitachi in 2010.
Hitachi of Japan. Merged phone units with NEC and Casio in 2010.
Fujitsu of Japan. Merged with Toshiba in 2010. Held 15 percent of Japanese market prior to merger.
Toshiba of Japan. Merged with Fujitsu in 2010. Held 4% share in Japan.
Palm of the United States. Sold to HP in 2010.
Handspring of the United States. Sold to Palm in 2003.
That makes 13 large phone brands that, in less than a decade, have either exited or lost independence after suffering crises of profitability.
As the following chart shows, at this time Motorola, Sony Ericsson and LG are still operating but have been dipping into the red.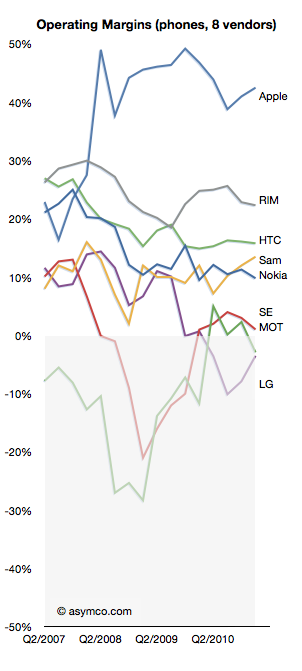 The three suffered severe volume contractions in feature phones and have no differentiation in software or platform products which makes their position precarious.
This cursory survey shows that it's difficult to be optimistic once a company reaches a point of crisis. It's a curious outcome given that the market is so vast and growth is so robust.
But the fact is that because of the technology cycle time, rapid business model evolution and fairly low barriers to entry, there is great rivalry between competitors. Profitability is the canary in the coal mine. It causes a brand to be tarnished in the eyes of distributors who, because of sales cycle times, are extremely sensitive to obsolete inventory. A loss maker is seen as a maker of damaged goods.
It then turns off the tap of incentives, promotions and hence visibility in the eyes of consumers. It's a vicious cycle from which few (if any) can recover. Past greatness offers no succor.
And so, with Nokia about to join the list of loss-makers it's only natural to question its fate as an independent company.