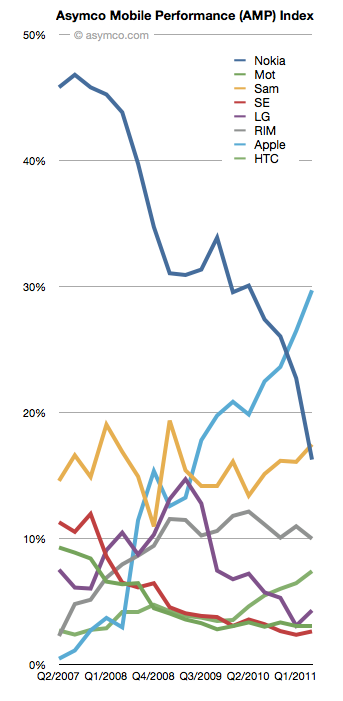 This is an updated view of the AMP index including Q2 data. As a reminder, the AMP (Asymco Mobile Performance) index is an unweighted average of four "shares":
Share of all handset units sold (global)
Share of smartphones
Share of value (revenues)
Share of profits
You can see the last quarter's standings here.
The updated index figures and spark lines are shown also on the right-most column on this site.
The biggest mover was Nokia which dropped 6.5 points. The second mover was Apple, with a gain of 3.2. Samsung followed with a gain of 1.38 and LG with a 1.21 and HTC with a gain of 0.95.
RIM lost about 1 point and Motorola and Sony Ericsson remained nearly flat.
The plunge in Nokia's AMP score is nearly matched by Apple's gain over the four year time period observed.
The full picture of each component is shown below: