In terms of units Windows-based computers made up 78% of all PCs sold in Q1. That was an increase from the 74% in the previous quarter but a decline from 90% a year ago. OS X based computers were about 3.7%, a decline in share both q/q and y/y, something the company attributed to a transition quarter.
The following chart shows the composition of vendor volumes with tablet and traditional form factor computers included: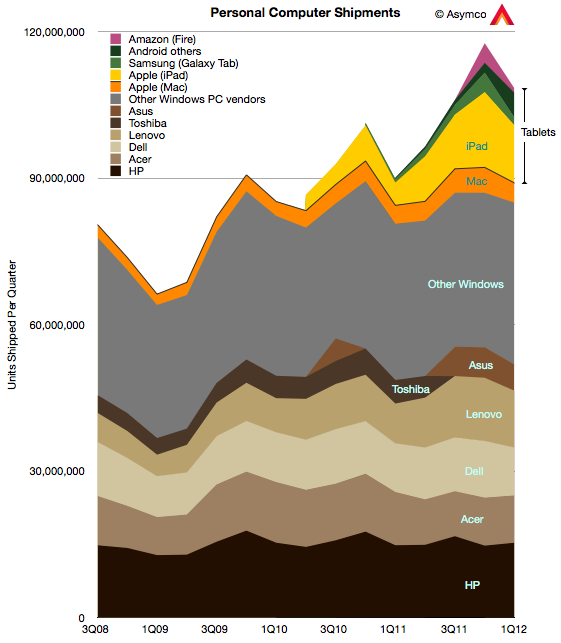 iOS computers (i.e iPad) were 11% of the market, declining from 13% last quarter but increasing from Q1 '11's 4.2% share. Apple reported that the iPad was not at supply/demand balance and thus could have sold more units.
Amazon's shipments went down significantly though sell-through was perhaps twice sell-in due to inventory build-up during the previous quarter. Overall, about 5 million Amazon Fire tablets were sold since the product's launch.
The third significant tablet vendor was Samsung, which sold about 1.6 million tablets, down sequentially but up y/y. Other Android tablets may have shipped another 5 million units.
Overall, Apple remained the top vendor with 14.6% share, followed by HP with 14.1% and Lenovo in third at 10.7%. Dell just barely managed to beat Acer with 9% vs. 8.9%.
The impact of the tablet (aka iPad) market is being described in the response to a significant earnings miss by Dell:
Sterne Agee, which admits it probably shouldn't have upgraded DELL from underperform last week, says it's notable that the PC maker acknowledged competition from Apple and Google for the first time as part of Tuesday's dour F1Q report and forecast. Meanwhile, Mizuho calls DELL a "show-me-story for now" in cutting it to neutral and cutting its price target 25% to $15. And ISI snarks "everything is bigger in Texas–including the misses." It adds while the company "is making the right business-model changes…results will remain 'chained' for years (not quarters) to commodity desktops/notebooks, which comprise over half of sales."
– Dow Jones Newswires (Kevin Kingsbury)
And so, two years later, the impact of the iPad is becoming abundantly clear, even to the incumbents.  The resistance and denial was profound. Even on this blog, the agitation and anxiety when the subject of the iPad as disruptor came up was palpable.
Perhaps that is the greatest testament to the disruptive potential of a product.