The iPad launched in April (i.e. Q2) 2010. Since then the PC industry (excluding Macs) has seen a decline in growth. The following graph illustrates global shipments as reported by Gartner: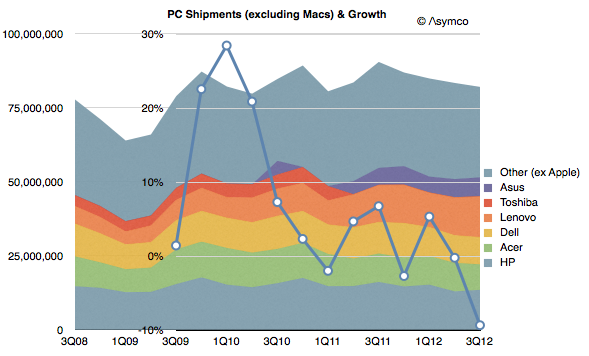 Note that the growth rate has been negative for 4 out of the eight quarters since. The latest data shows a decline in shipments of over 9% bringing yearly growth to negative territory for the first time since the recession of 11 years ago.
There's not much I can say that hasn't been said every quarter since 2010. The industry analysis as provided by Gartner suggests a different cause for the decline, becoming more creative each quarter. This time it's "challenging economic environment" and "lack of appeal and innovation", "delays due to tax incentives", "lack of new models", "conservatism", "clearing out inventory" and "softness".
The primary challenge to these ascribed causes has to be that all these factors also affect the tablet industry and yet it's growing at phenomenal rates. The rate of new product introductions is not faster for the iPad than for PC vendors. The public and private sector buying conditions are the same. The "conservatism" on the part of institutional buyers should affect the newcomer more than the established.
The notion that an outside challenger with a new platform, an unproven set of features and missing "security" should grow in the face of difficult macro conditions that are slowing the established platform makes no sense.
My hypothesis is that the new products are solving new jobs for the users and those new solutions are trumping any "softness" in demand. In other words, an upgrade to an over-serving product will be deferred at the slightest excuse while an installation of an under-serving product that attacks an unsolved problem will be rationalized no matter the circumstances.
One product will be met with "Why should we buy it?" and the other by "Why shouldn't we buy it?"
These are the decisions made by millions every day and yet it seems that some analysts don't see any pattern forming. Such is the dilemma of disruption.