Apple today announced it has sold nine million new iPhone 5s and iPhone 5c models in the first three days after their launch. This performance is illustrated in the following graph: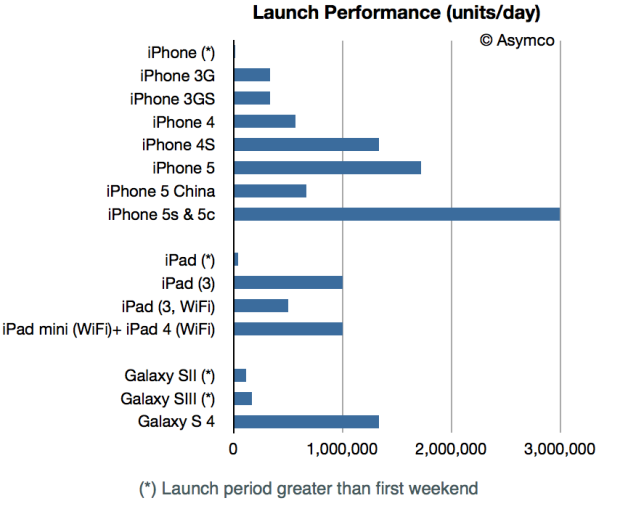 Note that the data is normalized to units/day.
The launch countries this year differed from last year in that they include all of China whereas last year only Hong Kong was included.1
The absolute number of 5x devices sold (not just shipped) seems to be an 80% increase from the 5 launch (9 million vs. 5) but accounting for China the increase is a more modest 29%.  ((The China launch event last year may have had a different dynamic as it occurred later and nearer to holiday season, but I'll go with the unqualified data.))
However, perhaps the more relevant comparison is between different "S" generations of phones.
The data shows that the 3GS was 3x more rapidly purchased on launch than the original iPhone. The 4S was 4x more rapidly purchased on launch than the 3GS and now the latest 5s/c are 2.3x more rapidly purchased than the 4S.
The growth is certainly lower but from a much higher base. This should not be surprising.
UPDATE: Galaxy S 4 launch data is updated to show weekend performance. Previous graph showed performance over the first 27 days.
I am assuming that this year China includes Hong Kong. It would be good to confirm this. [↩]