The iPad has an installed base of over 300 million. This is a far larger audience than that of the Mac (which has somewhere between 100 million and 150 million). And whereas the iPad acquired this audience in about 7 years, the Mac took 33 years.
Curiously however, it is the iPad that is seen as the more fragile product. The iPad is considered to be failing, with a presumption of an end of life in the near future. The evidence of this failure the year-on-year decline in units sold. This is illustrated by the following graph.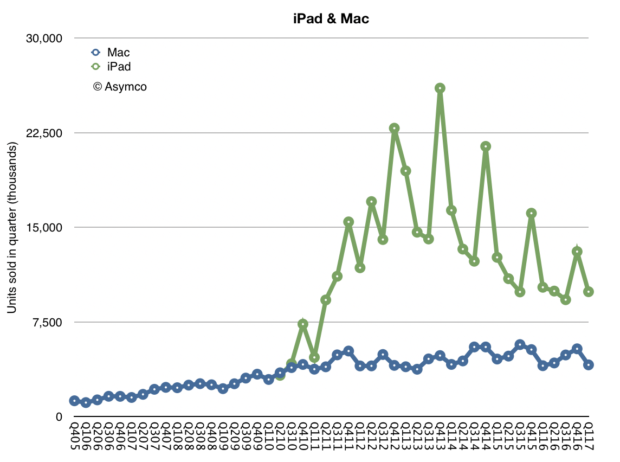 Note that the iPad decline is paired with a steady increase in the Mac. The iPad exhibits a four year decrease in overall volumes. This has, as they say, bad optics.
But what is seen isn't all that might be,
If we look further we see that the iPad is still a much loved and much used product. Data from the Pew Internet Survey shows that tablet ownership among US adults increased from 45% in April 2015 to 48% in April 2016 and 51% in November 2016. The rise has been steady. Although this counts tablets, the iPad had 85% share of the U.S. market for tablets priced above $200 so it's a fair assumption that the iPad audience is growing. Similar data exists for the UK.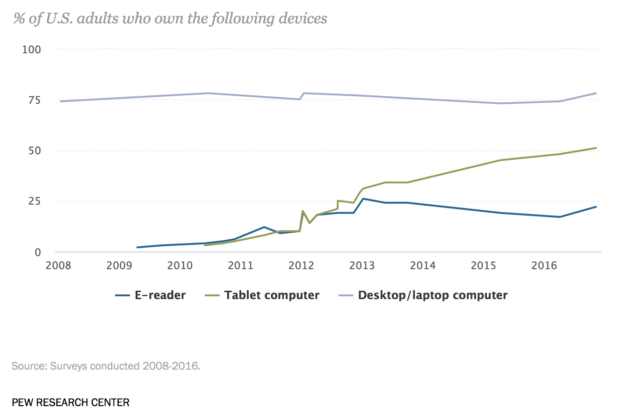 In addition, user satisfaction with the product continues to be very high. Apple cited that in November, 451 Research measured a 94% consumer satisfaction rate for iPad Mini, a 97% rate for iPad Air, and 96% for iPad Pro. Finally, browsing, shopping and app usage data also show continuing high utilization for iPads.
Furthermore, iPads are still growing in "non-consuming" markets. iPad posted double-digit growth in both Mainland China and India, it continues to attract a very high percentage of first-time tablet buyers.
Finally, within corporate buyers there is a 96% satisfaction rate with 66% purchase intent. Apps and solutions are continually being developed for the platform.
Taking into account that the iPad has a large, stable, engaged and loyal user base that continues to expand and find new uses the optically bad sales data needs an explanation. The simplest explanation is probably the best: iPads remain in use far longer than phones, and perhaps even longer than some computers.
Anecdotally we can see evidence for this. Few iPads are replaced every two years the way phones are. They are not tied to service contracts or subsidized. They are also less likely to be damaged during usage as phones are dropped and banged-up. iPads are more stationary or carried in protected containers. Phones are in pockets, iPads are in bags.
So iPads are longer-lived products and it's perfectly reasonable that people who have them keep using them and more people are joining them but slowly. Note also that the decline in sales seems to be flattening out and perhaps might show stabilization.
Further countering of the iPad in decline idea is the continual improvement in the product. The latest is a refresh of the iPad with more battery life, a better screen and support for Pencil.
Perhaps the iPad will not return to rapid growth, or perhaps it will. But the more likely possibility is that the iPad will level out maintaining steady levels and, perhaps, grow slightly. This flat rather than up/down trajectory is unusual in devices but it isn't when you look at the Mac. And isn't the goal of the iPad to become a computer?  If so then perhaps Mission Accomplished.