Oct 13, '14 8:11 PM
I received a few questions from Shirley Siluk of NewsFactor as a follow-up to my post on the trajectory of successful companies.
1. Do you foresee any hope for a turnaround for Samsung? If so, where do its best opportunities lie?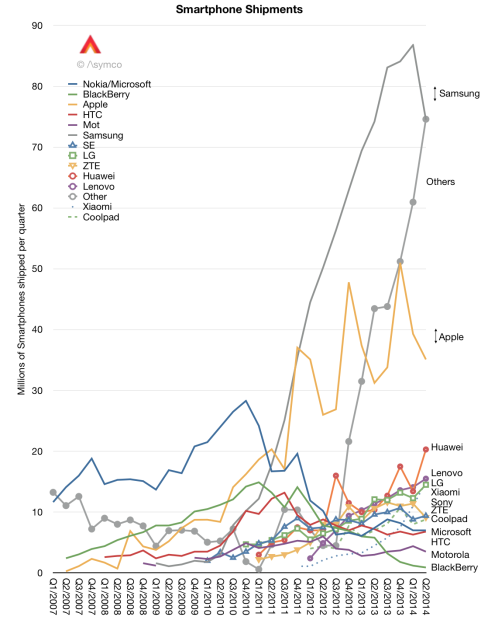 The smartphone business was a huge opportunity for Samsung and they took full advantage of it. Unfortunately, it's a difficult business to stay on top of. The list of victims in that industry is quite long and there have been no long-term winners. Samsung's operating model seems to be to invest as a 'fast follower' filling in the market after it's established while leveraging capital intensive components synergies. That has also worked for them in consumer electronics (at the expense of Sony and other Japanese vendors). If the modus operandi does not change then their turnaround will depend on the creation of new opportunities/categories. Wearables may be such an opportunity but it may not be as big as the phone business.[1]
2. What has contributed most to Samsung's decline? Which competitors are posing the greatest threat?
Notes:
The graph shows estimates of smartphone shipments for a select number of vendors. [↩]
Oct 12, '14 1:29 AM
Horace and Anders on the irrelevance of shareholders. Anticipating an Apple October 2014 event they discuss how the iPad and tablet designs could evolve. Diving into how brands can manage disruption through a whirlwind tour of products from cameras to watches to cars.
via 5by5 | The Critical Path #126: Making the world go round.
Oct 9, '14 6:51 PM
Dash is realtime dashboards for your website, your business, and your life. Your first dashboard is free forever. You can use Dash to make dashboards like this one for App Store Review Times.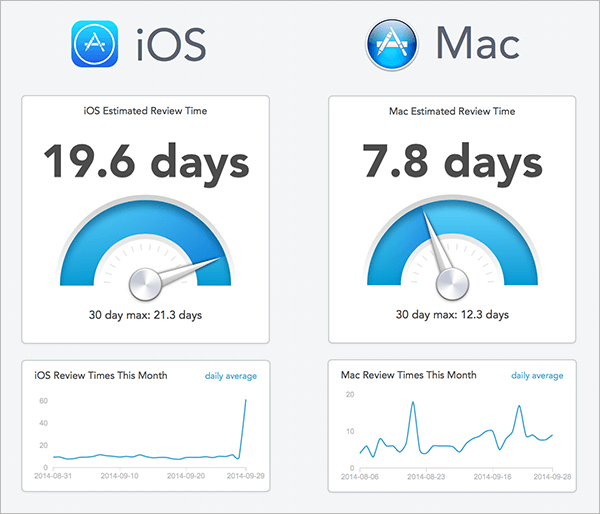 Oct 8, '14 3:53 PM
Horace and Anders analyze the possible business models for Apple Watch, how it may be introduced, distributed, sold, and bought. What impact will the Watch have on Apple's top and bottom lines? They further look into possible introductions for the rest of 2014. Horace sounds about to give up hopes on Apple TV.
Oct 7, '14 3:08 PM
Samsung Electronics warned Tuesday that its third-quarter earnings would fall below market expectations. It did not cite a decrease in shipments but an increase in marketing expenses coupled with an unfavorable mix (i.e. more low-end units and fewer high-end units).
The headlines reporting the news emphasized the 60% forecast drop in operating income but the company also provided sales figures. Adjusting for exchange rates, the forecast revenues are shown in the following diagram: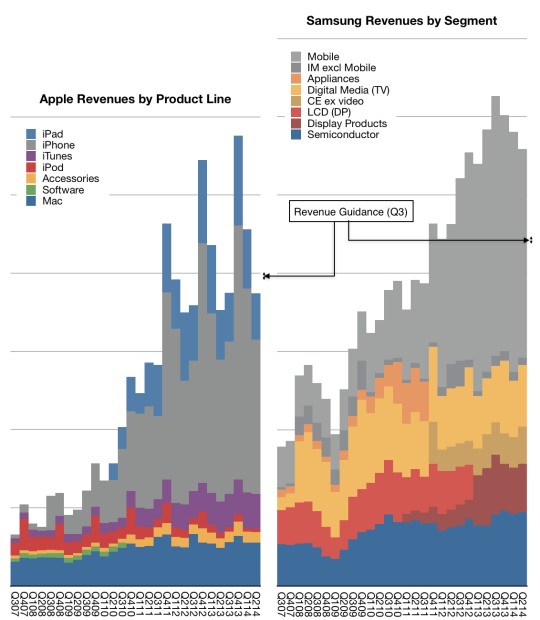 Note that I also included Apple's revenue history and forecast. Samsung's revenues are shown on the right and Apple's on the left using the same scale (each horizontal gridline represents $10 billion/quarter.
The explicit cause for the drop is a decline in prices and "increased competition".[1] However a few more questions need to be answered regarding long-term success in the markets Samsung competes in.
Namely:
The absence of a software platform fully within its control
The absence of control over an ecosystem of content and apps
The absence of services
The lack of integration of software, services and hardware
The absence of differentiation vis-a-vis other vendors
The indefensibility of its low end offerings from low end disruptors
The pattern of commoditization in all its markets
Samsung is a very big company but many very big companies came to become small companies. They all followed similar roads.
Notes:
Though one can't be sure when there was ever decreased competition in its markets. [↩]
Oct 2, '14 4:17 PM
Horace and Anders discuss Opening Weekend Sales of iPhone 6, Accurate Timekeeping Device, the 3rd tentpole of Apple Watch, leading to a brief history of wristwatches, a study of Job-to-be-done for the watch and what it signals about Apple's future.
Horace also announces his new role at the Clay Christensen Institute, and the resumption of Airshow World Tour starting with Airshow Seattle on Nov 8.
Sep 30, '14 11:36 PM
I started working at The Clayton Christensen Institute and my job is to help develop the theory of disruptive innovation.
In order to do this I need to understand at least two concepts:
The process of theory building
Disruptive innovation theory
I'm more comfortable with the latter–having been a student (and victim) of it for more than a decade–but the the process of theory building is a new concept. At least to me but also, I believe, to many. The belief that a theory is fully cooked when first conceived is not the way science developed and the idea that business management theories are singular ideas rather than processes is symptomatic of an immaturity in the field.
So here are the basics of theory building as put forward by Clay Christensen and David Sundahl:
Definition: A theory is a statement of what causes what, and why, and under what circumstances. A theory can be a contingent statement or a proven statement. That is all.
Many managers shy away from using the word "theory" because it is associated with the term theoretical which suggests impractical. But managers use theory every day. They make decisions on some basis of cause and effect, often without being specific about their reasoning.
Process: First comes observation. Second, description. Third categorization. Fourth comes analysis and a statement of what causes what and why. This analysis can be simply an observation of a pattern or a more rigorous correlation analysis.
But that's not the end of the process. The causal statement needs to be tested by predictions whose validity is tested with further observations and confirmation or denial of the statement. If the statement is denied we need to decide if it's an anomaly that expands the theory or whether it contradicts the theory making it less useful.
The anomaly allows a new categorization to take shape. Getting the categories right is the key to the usefulness of the theory. The discovery of anomalies can thus make a theory stronger. The discovery of anomalous phenomena is the pivotal element in the process of building an improved theory.
This iteration between prediction/confirmation/anomaly handling can go for quite some time. As anomalies are accounted for on a regular basis then they can either be exhausted or depleted enough that a robust enough categorization emerges and the predictive power is nearly complete.
Example: In my reading of Apple's financial statements I observed that Capital Expenditures were rising dramatically after the company began to sell iPhones. The observations were made over a few years. The pattern observed showed some correlation between spending and shipments of units.
The company's spending was then compared with a group of other technology companies. These observations suggested that spending varied according to business model and strategy and that Apple seemed to be transitioning from one type of spending (on infrastructure) to another (on manufacturing equipment.)
Then a statement was made that Apple was using capital expenditures to not only ensure supply of components but also of component manufacturing equipment. This was borne of necessity but had the side effect of creating competitive advantage as its unibody devices and Macs were unique and differentiated.
As the more data came in, by the prediction was made that capital expenditures– which are incurred before production starts and which are pre-announced on a fiscal year basis — indicate new product ramps or new product introductions.
A few anomalies were experienced when spending increased but production didn't and vice versa. These were studied and explained by shifts in technology (mainly screens) which required "out-of-phase" investment. Additionally, the companies in the cohort also varied their spending on the basis of opportunities in the short term.
As it stands, the theory that Apple uses capital investment in tooling to manage its quality and quantity of production and that in doing so it integrates deeply into its supply chain creating competitive lock-outs is holding up. It is not sufficiently precise to forecast actual production volumes for individual product lines but the growth in the business is broadly foretold by the growth in capital expenditures.
Indeed the share price generally reflects this:
Proposition: At a basic (micro) level, the process of theory building is something we do instinctively. We observe patterns, make statements that A causes B and carry on with the theory as an assumption. The challenge is more on a macro level. Few theories are built rigorously about the causes of success or failure of business systems. This includes understanding why large, powerful firms fail when confronted with small, weak competitors. Why, how and when industries disappear. How resources are allocated and how priorities are set. It's as if individuals behave with far more intuitive insight than firms.
That is what must change.
Because firms are increasingly determining the prosperity and sustainability of nations and the world. We can't afford mismanagement.
The counter-point to this quest is that large systems are intractable and business is inherently chaotic, unpredictable. It may be, but much of what we know as science today was once thought of as impossibly mysterious and unknowable. I have faith that as the physical universe, the affairs of men have laws which govern them.
Sep 30, '14 5:57 PM
Steve Jobs said death is the best thing in life. And yet we seek immortality, or at least life-extending technologies. What are the possibilities and implications of a salubrious app? Is life extension the next killer app[1]
5by5 | The Critical Path #123: Salubrious.
Notes:
No pun intended [↩]
Sep 22, '14 6:41 PM
When the iPhone 4S launched, one million units were pre-ordered and 4 million units were sold during its opening weekend. That made the daily rate during the 4S weekend 1.3 million units/day or one third faster than the pre-order rate of 1 million units/day.
When the iPhone 5 launched, 2 million were pre-ordered and "over" 5 million were sold during during the opening weekend. That made the daily rate during the  launch weekend about 1.7 million which was about 15% slower than the pre-order rate. However, a few months later the 5 launched in China setting an opening rate of 2 million in three days or about 666k/day. Adding China's rate to the Rest of World rate yields about 2.4 million/day or about 20% faster than the pre-order rate.
When the iPhone 6/6Plus launched, 4 million were pre-ordered and 10 million were sold during the opening weekend. That made a daily rate during the launch weekend about 3.3 million, again lower than the 4 million/day in pre-orders. However, just like the 5, the 6 launch excluded China. If we assume that a China launch would have run 30% faster than the 5 launch[1] then my estimate of launch performance for the iPhone range is shown in the graph below: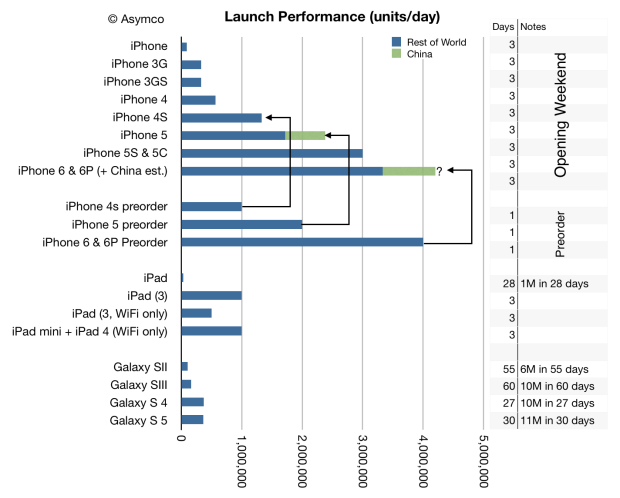 I included in the graph the various other launch volume data we have available.
I also included lines showing how pre-order volumes relate to weekend values for the products where we know both.
It therefore does not seem improbable that had China been available (and at the time when it will be) the iPhone launch weekend rate for the 6/6Plus combo would have been about 4 million/day. A rate consistent with the history for the product.
Notes:
Considering that this year China distribution includes China Mobile a 30% increase from two years ago is, in my opinion, conservative [↩]