Sep 22, '15 10:42 AM
Subscribe to the weekly podcast about Internet History hosted by @brianmcc. Listen to interviews and oral histories with founders, engineers and other Internet pioneers with special episodes recounting the founding stories of companies you know and love. It's like a mix of Marc Maron's WTF and Dan Carlin's Hardcore History… but all about tech.
Past episodes have featured:
The founding stories of Netscape, Amazon, eBay, Pathfinder, Hotwired, Suck and more.
Oral histories from the majority of the Mosaic/Netscape engineering team.
An interview with the father of the MP3, Karlheinz Brandenberg.
Founders of CBSSportsline, Match.com, iVillage, RealNetworks and more
The forgotten technical co-founder of Amazon.
The woman who carpet-bombed the world with AOL CD's.
The founders or CEOs most of the major search engines of the 90s.
And there's more every week.
Subscribe now in Sticher or iTunes, or on your podcast app of choice.
Jul 30, '15 8:42 PM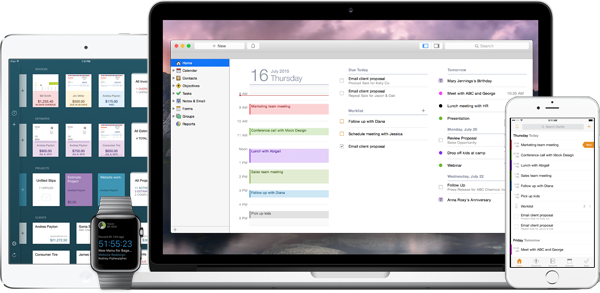 Marketcircle helps small businesses grow with amazing business apps for the Mac, iPad, iPhone, and Apple Watch. Marketcircle is a Mac-based software company in Toronto that develops award-winning apps to help you work happier.
Daylite is a business productivity app that gives you the benefits of a CRM, project management app, calendar app, and to-do app – all in one. Daylite helps you stay organized, share information and build effective processes so you or your team can increase efficiency.
Billings Pro is a time-tracking and invoicing app that helps freelancers and small businesses create beautiful and professional invoices in as little as 60 seconds. With less time managing invoices, you'll have more time to focus on clients and do the work you love.
We've been helping Mac-businesses for over a decade. Read how small businesses have grown with help from Daylite and Billings Pro.
Jul 13, '15 8:12 PM
There is no reliable information on Apple Watch sales. None of the analysts which follow Apple or the phone, computer or watch markets have any insight into this. The only source of information is Apple itself and they have made it clear that they don't intend to provide watch sales data for competitive reasons. I did not and do not expect any information from Apple on watch sales. They have placed the product within the "Other" category specifically to make unit data hard to discern and have explained why they do so.
The only estimate we have heard of is from a company that has no track record in market research and relies entirely on sampling of email receipts. I urge extreme caution when dealing with this type of data. We don't know how representative these receipts are and how they are sourced or sampled. The methodology is not only unclear but it's one not practiced by any other analyst. You would think that receipt sampling would be a phenomenal source of information about a lot of other products and yet we hear nothing about how predictive it is for anything except this particular new product as claimed by a company which never made any such prior claims.
It's also a sampling of (presumably) US-only customers at a time when the product is undergoing a gradual roll-out through multiple countries and multiple channels. Consider that if sales were constrained internationally then buyers would be trying to arbitrage through the US market, meaning there would be many e.g. Chinese buyers/brokers booking sales through US online stores inflating that channel's initial volumes. Furthermore as physical retail stores begin to receive stock, online sales (which are what is sampled) should decline as buyers opt for the instant gratification (and the option to see the product in real life.) To see US-only online purchases drop after a period of pent-up demand and as store inventory becomes available is not interesting and says almost nothing about the product's performance.
The only way to be thoughtful about this new category is to understand the broad transitions underway in mobile computing. We are witnessing a pivot in human-computer interaction as significant as the initial iPhone launch.
[As a rule, be very careful with the premise of data salesmanship. All data is false, some is useful. Data you have to pay for is less useful than data that has been peer reviewed.]
Jul 13, '15 6:40 PM
For the first time in many years I feel that there is some potential uncertainty in the results Apple will announce. After a period of excellent accuracy (shown in graph below), the company's guidance has begun to diverge dramatically from reality and the trend might continue this quarter. The cause might be unanticipated demand for the iPhone 6/6 Plus. The growth rate for the product was 46% in Q4 and 40% in Q1. This is unanticipated because growth rates have been below 20% for five quarters and below 50% for eight.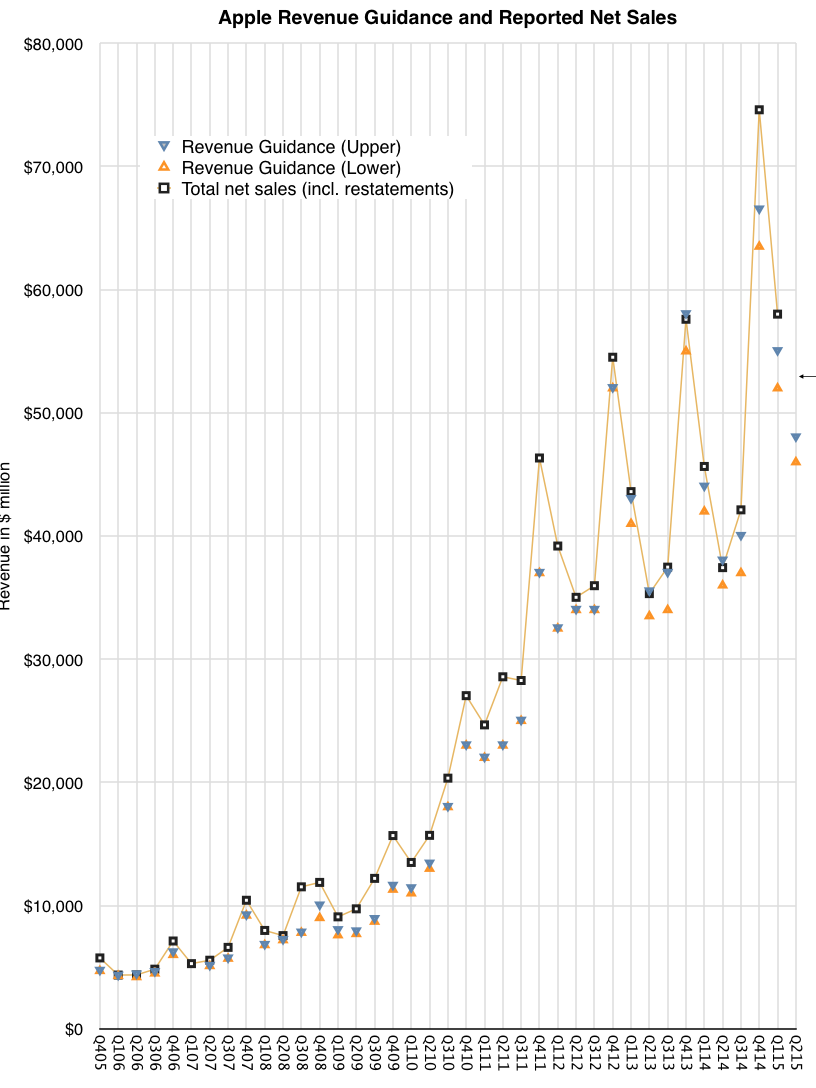 This slowing of growth was explainable given the rate of diffusion of smartphones in the global population. Within the US and some other early adopting economies the market is reaching late stages where most people have switched to smartphones. Globally we are at a more modest 30% or so but in many of the late adopting economies Apple does not have wide distribution.
Of course this thesis is thinly supported. There are many reasons to think that late adopters would still start with iPhone and that earlier adopters of Android would upgrade to iPhone after a few purchase cycles. Thus, the iPhone could prosper in later-adoption or even in post-saturation states of the market.
Indeed, in the post-saturation PC market, Apple is doing very well with the Mac and in the late to post-saturation MP3 player market the iPod did extremely well. This suggests that when it comes to value capture brand, experience and satisfaction trump function, price and share considerations in almost all consumer markets[1]
With so many assumptions put asunder the iPhone business suddenly looks downright lively. I adjusted my own growth assumptions and the resulting figures are shown below.
Notes:
Enabled by design for jobs to be done. See non-technology markets for abundant evidence of this. [↩]
Jul 10, '15 8:38 PM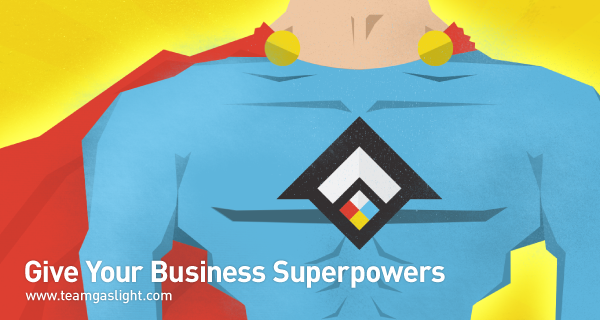 Leap your toughest business problems in a single bound.
At Gaslight, we transform businesses with technology. Let's work together to build custom software that gives your business superpowers. The kind that allow you to boost profits, innovate faster, launch a new revenue stream or radically improve productivity.
We believe in the power of:
Small, mighty teams: We'll assign a strong dedicated team, often two developers and a designer, to work on your project.
Laser focused work: Our agile development process allows us to build software faster and focus on building the features that deliver the most value to your business.
True partnerships: We consider our clients part of the team and collaborate with them on a daily basis.
Read our case studies to see how we've given other businesses superpowers. Or reach out to kick off a project.
p.s. 5 signs your business needs custom software
May 22, '15 4:40 PM
Horace interviews Anders about Goldman Sachs' investment in Internet finance company Circle and we take listener questions over Twitter.
May 22, '15 4:36 PM
Horace Dediu, current fellow of the Clayton Christensen Institute and founder of Asymco.com joined us for an epic and insightful discussion focusing on few key interesting topics: (a) new market disruption theories, (b) Apple in China and the luxury market and (c) the Japanese automotive industry and how it shapes up against disruption from Tesla, Uber and Apple. In the second part of the trilogy, Horace discussed how Apple has managed to navigate the Asian markets with a combination of building the best product and building strategic partnerships with patience and grow the market with the right timing of the correct localised product, for example, the iPhone 6 Plus. Horace also pushed against the notion that Apple is really entering the luxury market, by applying "Jobs to be Done" perspective (used by Bob Moesta in his interviews) to the issue.
Source: Episode 32: The Asymco Trilogy with Horace Dediu Part 2 – Apple in Asia & Luxury – Analyse Asia with Bernard Leong
Mar 27, '15 9:55 PM
Avea transforms your home with beautiful dynamic light moods. Control your ambience from your iPhone or iPad and unwind in one of the carefully crafted settings with subtly changing light.
After a relaxing evening, simply set your alarm using the built-in wake-up light scene. With Avea, rise and shine along a natural sunrise, right in your bedroom.
Avea connects directly to your iPhone or iPad using Bluetooth Smart technology, without requiring additional gateways or bridges. But it doesn't stop there: once you have chosen a light scene, the smart LED lightbulb will take care of the rest, not requiring a constant connection to your iPhone or iPad. Connect more than one Avea, and they will automatically coordinate their lighting to create an even more immersive atmosphere.
Supported Devices: iPhone 4S or later, iPod touch (5th generation), iPad mini or iPad (3rd generation or later); with iOS 7.1 or later
Transform your home with beautiful dynamic light moods
Control your ambience from your iPhone or iPad
Rise and shine with the built-in wake-up light scene
Direct connection using Bluetooth Smart technology
Connect more than one Avea to coordinate their lighting
Check out the video here.
Sponsored via Syndicate.