As Intel has improved its products, their demand has decreased. Enormous efforts put into improvements are neither valued nor absorbed. The problem is not with the processors themselves but with the systems within which they are built: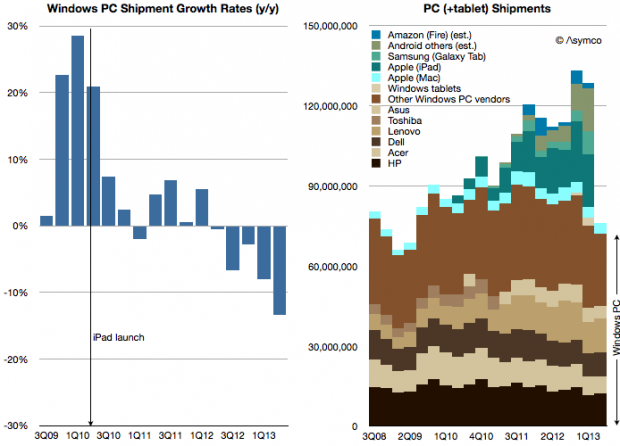 PC sales fell again last quarter and the contraction is likely to continue. We received affirmation of this as Intel cut sales and earnings forecasts and the crucial capital spending that creates supply in the longer term.[1]
At the same time, computing device sales have soared.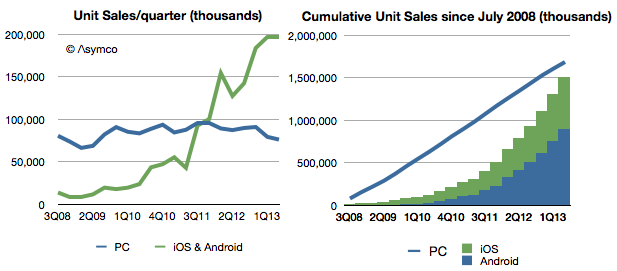 Even excluding Android devices which don't register with Google's Play Store (and excluding Windows Phone devices), mobile ARM devices are selling at 2.6 times the rate of Intel-powered devices. Put another way, since the birth of Android nearly as many iOS and Android devices have been sold as PCs.
In terms of install base, a computing category that did not exist six years ago has come to overtake one that has been around for 38 years.
The calamity for Intel has been that they have had no part to play in the new category. Perhaps that is because they had every part to play in the old category.
—
Notes:
Intel said it was cutting 2013 capital spending to $11 billion. The cut follows a reduction from $13 billion to $12 billion in April. Apple's budgeted capital spending for fiscal 2013 (ending September) was set at $10 billion.