Nov 10, '17 6:07 PM
This is a good one.
Horace and Anders discuss Apple earnings, the iPhone X and take listener questions.
Nov 8, '17 4:47 PM
The last time Apple reported iPod unit and revenues was for the third quarter of 2014. Thereafter the product segment called "Other Products" was used to include what was formerly the iPod segment and the "Accessories" segment. Exactly two quarters later Apple began to sell the Apple Watch. Apple Watch was not broken out as a separate product segment and remained a part of Other Products along with iPod touch, Beats, Apple TV, and Apple-branded and third-party accessories. Soon the HomePod will also join the Other products.
The combined iPod, Accessories and "Other" product sales are shown in the following graph.[1]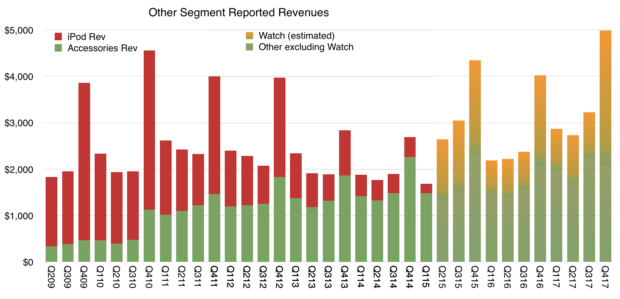 Note that an attempt is made to estimate the contribution of Apple Watch to the mix. The method is simple: if you can estimate the non-Watch sales trajectory then the Watch is the difference between Other total and this trajectory.
If we discount the iPod, the non-Watch revenues come down to Apple TV and Beats, mainly.  Note that the data shows the contribution of Beats (Q4 2010) but it's hard to parse specifically the growth of Beats. Since the Watch launched we also saw the introduction of AirPods and new Apple TVs, both of which probably contributed to some growth to "Other excluding Watch."
We can take a stab at the first 6 quarters of Watch by projecting Other with some nominal growth. Thereafter Watch can be modeled using growth assumptions. Apple stated that growth was above 50% during the past three quarters. There are a few quarters where we must make guesses but overall the picture that emerges, shown below, is fairly robust. Note that I've included estimates for the fourth quarter of 2017 assuming continuing 50% growth. This is driven primarily by the launch of the LTE-enabled Series 3.
The result is a cumulative sales value of $14.3 billion and a volume of 40 million units (based on average pricing assumptions).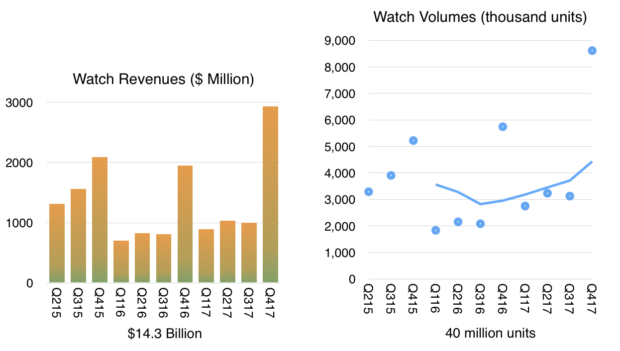 But what most catches the eye is the transition from iPod to Watch. Watch entered nearly at the same time as iPod bowed out. Its contribution to sales seems to mirror the iPod as well. The interesting question then becomes if the Watch will eventually match and indeed exceed the revenues from iPod.
I'd say the better question is _when_ Watch will overtake iPod. From a revenue point of view, I believe next year's fourth quarter will see the Watch generating higher revenues than the highest quarter for the iPod.[2]
In terms of yearly unit sales it may take longer. The biggest year for iPod units was 2008 when about 55 million iPods shipped. Watch is now running at about 16million. If it could sustain 30% growth then it would take until 2022. 40% growth would mean 2021 and 50% 2020.
It's not easy to predict growth but my bet remains that Watch will get there eventually becoming the third most popular Apple product. Perhaps even second.
Overtaking the iPod is quite an achievement considering that the iPod was once synonymous with Apple itself. Although Watch may overcome iPod, Apple may never be known as the Watch company. That's perhaps for the best. I've noted before that Apple was once seen as the Apple II company, became the Mac company then the iPod company. Now of course it is thought of as the iPhone company though it's no more that than it ever was any of the other things.
Notes:
Two quarters include estimated iPod revenues: Q4 '14 and Q1 '15. The iPod contribution is estimated with a simple extrapolation using the previous four quarters' average rate of decline [↩]
That was in Q4 2007 when iPod managed $4 billion. [↩]
Oct 26, '17 7:39 AM
Source: ¿El iPhone 8 tiene lo que se necesita para ser un éxito?
The above interview was conducted October 17 with Carlos Morales
Editor en Jefe, Forbes Digital (Mexico).
The source questions and my answers in English are below:
How can we read the fact that the new iPhone lineup raised so little noise? There was no massive lines outside the Apple Stores and people demonstrated almost zero interest in the new models compared with the hype motivated by the iPhone 7.
I don't know about you but I don't like waiting in lines. I don't think Apple considers waiting in lines to be a good user experience for its customers. Over the years Apple has been able to improve availability and online orders so that lines can be eliminated. I suggest a better way to gauge interest in new models and that would be to look at sales. Sales seem to be going up even as lines have been going down.
The iPhone 8. What do you think of the fact that the iPhone 7 is outselling the iPhone 8?
Is it a fact? I think this notion is coming from a survey of operator stores in the US over a short time period. The mix of phones has never been known and is a matter of speculation. The only data we do have is the average selling price derived by dividing the revenues by the number of units sold (and ignoring deferrals). This price set a new record during the last 12 months. Expectations are that it will increase to another record again next year. I might add that this has never been observed in the phone business as far as I know. The opposite has been the trend.
Whats the outlook for the the iPhone 8 vs the iPhone 7 and the iPhone X?
The iPhone 8 is likely to be the best selling model over the next 12 months. The iPhone X will be the best seller in the first quarter but I expect it will come second during the following quarters. The iPhone 7 will end up 3rd.
What do you think about the smartphone prices, aren't they too high? How far can they be stretched ?
Smartphone prices are very low. World-wide, average smartphones sell for less than $300. You can see a break-down by region here.
iPhone prices are, on average, more than double the average of all smartphones. Note that apple's latest line-up also includes the cheapest iPhone ever with the SE now starting at $350.
I don't think the average selling price will increase in 2018 globally. It will probably decrease as it has for a long time. Average iPhone prices will increase but probably only by $10 or so.
The iPhone price tiers are well understood. I published an analysis here:
More important however is that the iPhone remains priced at about $1/day, no matter the model, and as such the value users perceive is very high. The most expensive iPhone costs about 8 cents per hour of use, 1.4 cents each time you unlock it and 1 cent for ever 25 interactions you have with it (touches or taps). On a per use basis the iPhone is extraordinarily cheap. I know of no consumer product that is cheaper. This is determined partly by the intensity of use and by the high resale value (I assume 30% residual value after 2 years).
Do we really need a borderless OLED display in a smartphone? What about the face recognition technology?
Having no borders means you can get a screen that is bigger than the iPhone Plus in a phone the size of an iPhone. I think users will value getting more screen in a smaller phone. I certainly would. Having OLED means it can be curved a bit and also have nicer, truer black.
Face recognition saves time and is more secure. I don't know another way of making the experience better for something that you do 30,000 times a year.
What do you think about the Apple Watch, which seems to be—finally—on the right track?
The Apple Watch has been on the same track for 2.5 years. I don't see any change in that trajectory.
Oct 4, '17 10:52 AM
Microsoft has announced that by the end of the year the Groove music service will be phased out. Users are being offered the option to move their music libraries into Spotify.
This brings to an end a long story of Microsoft in the music distribution business. It started nearly 15 years ago with technologies in Windows that allowed for purchase and playback of various media formats. Microsoft sought to enable a large number of music retailers to market music through its formats and DRM and transaction clearing.
Services such as AOL MusicNow, Yahoo! Music Unlimited, Spiralfrog, MTV URGE, MSN Music, Musicmatch Jukebox, Wal-Mart Music Downloads, Ruckus, PassAlong, Rhapsody, iMesh and BearShare and dozens of hardware players licensed Windows formats. Almost all of these services have shut down and the devices disappeared.
The next stage was to offer an integrated experience through the Microsoft Zune player and Zune Marketplace music service. This too failed and was replaced by the Xbox Music brand in 2012. On July 6, 2015, Microsoft announced the re-branding of Xbox Music as Groove to tie in with the release of Windows 10.
There was a time when Microsoft was thought of as the certain winner in media distribution. Inserting media into the Windows hegemony was classic "control point" strategy: owning the access points was a sure way to collect a tax on what transacted through the network.
Instead we are facing a market where media is consumed through new access points: phones, tablets and TV boxes. Netflix, Spotify, Roku, Google, Amazon and Apple are all offering distribution and some are investing in original programming.
It's perhaps worthwhile to recall that Microsoft and Apple both started their media efforts around the same time. Apple's iTunes is 16 years old and the iTunes Music Store opened in 2003, almost 15 years ago. Today Apple is transitioning to streaming with 30 million subscribers. The graph below shows the history of subscription growth to Apple Music and Spotify.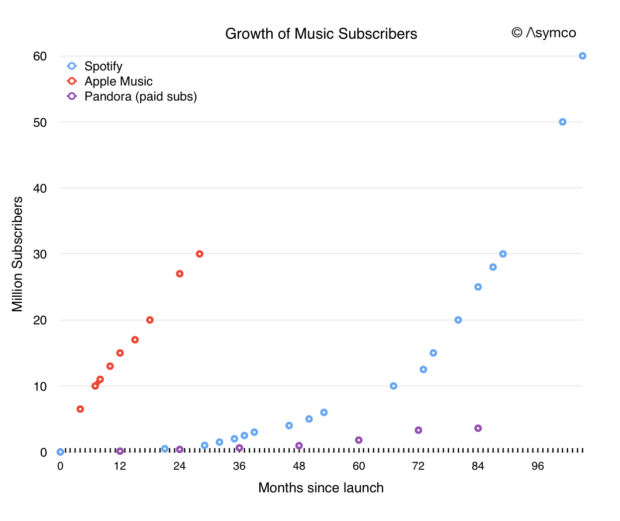 Apple Music is a small part of Apple Services (part of the orange area below).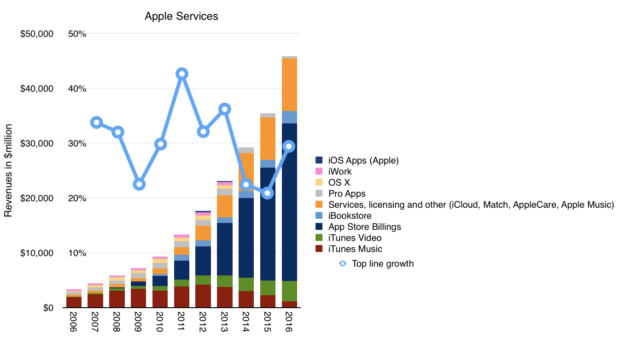 On a yearly basis Apple Services are this year crossing the $50 billion gross revenue run rate. This year Apple released a new Apple TV 4K and is releasing a new smart speaker called HomePod.
The contrast between Microsoft and Apple is most visibly between the Mac and PC. But the story of how media paralleled mobility and how Microsoft struggled with both is perhaps a cautionary tale.
Microsoft saw the limits of modularity when new product categories emerged and when new user behaviors were created. They attempted to pivot into being more integrated but those efforts also failed. The efforts continue today with Surface devices; looking forward they will continue with AR/VR and perhaps a pivot of Xbox..
But the long arc of history shows how hard it is to succeed in vertical integration after you build on horizontal foundations. Generations of managers graduated from the modular school of thought, specializing rather than generalizing. Now they are facing an integrated experiential world where progress depends on wrapping the mind around very broad systems problems.
Entire industries are facing this orthogonal pivot: media, computing and transportation come to mind. Huge blind spots exist as we see only what we've been trained to see.
Oct 3, '17 3:56 PM
On July 3rd, Elon Musk handed over the first 30 Model 3s and tweeted
"Production grows exponentially, so Aug should be 100 cars and Sept above 1500."
He added,
"Looks like we can reach 20,000 Model 3 cars per month in Dec".
In 2016 he stated
"So as a rough guess, I would say we would aim to produce 100,000 to 200,000 Model 3s in the second half of [2017]. That's my expectation right now."
He confirmed this estimate early in 2017
"Our Model 3 program is on track to start limited vehicle production in July and to steadily ramp production to exceed 5,000 vehicles per week at some point in the fourth quarter and 10,000 vehicles per week at some point in 2018."
Overall 2018 production guidance has been 500,000 units and 1,000,000 units in 2020.
The company shipped 220 Model 3s in the July, August and September months. This is well below the expectation of 75,000 that the 2016 guidance would suggest[1] or the 1,630 that might be suggested by the "production grows exponentially" July proclamation.
I entered the Q3 production data and kept the previous run rate predictions for Q4 and 2018 and 2020 in the following graph.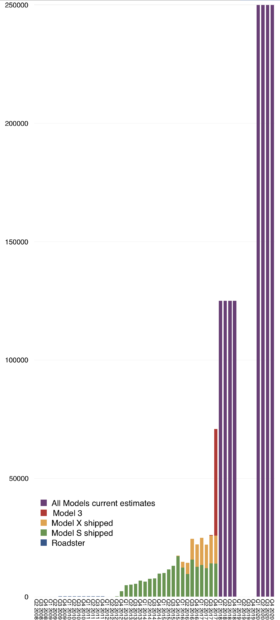 Notes:
100,000 to 200,000 for the second half of 2017 suggests an average of 150,000 for the six months or 75,000 per quarter [↩]
Oct 2, '17 2:43 PM
You've probably heard of Jony at Apple but probably don't know about Johny.
Jony is a celebrity executive known as the face of Apple Design. Johny is the executive in charge of custom silicon and hardware technologies across Apple's entire product line.
Under Johny's leadership, Apple has shipped 1.7 billion processors in more than 20 models and 11 generations. Currently Apple ships more microprocessors than Intel.[1]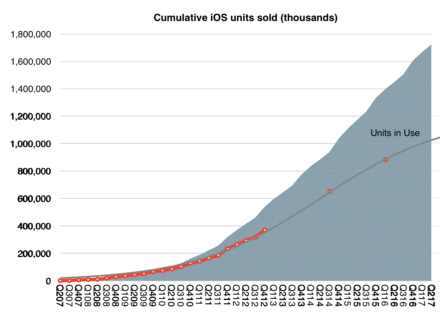 The Apple A11 Bionic processor has 4.3 billion transistors, six cores and an Apple custom GPU using a 10nm FinFET technology. Its performance appears to be almost double that of competitors and in some benchmarks exceeds the performance of current laptop PCs.
A decade after making the commitment to control its critical subsystems in its (mobile) products, Apple has come to the point where is dominates the processor space. But they have not stopped at processors. The effort now spans all manners of silicon including controllers for displays, storage, sensors and batteries. The S series in the Apple Watch the haptic T series in the MacBook, the wireless W series in AirPods are ongoing efforts. The GPU was conquered in the past year. Litigation with Qualcomm suggests the communications stack is next.
This across-the-board approach to silicon is not easy or fast or cheap. This multi-year, multi-billion dollar commitment is rooted in the Jobsian observation that the existing supplier network is not good enough for what you're driving at. Tiny EarPods, Smart Watches, Augmented Reality, Adaptive Acoustics require wrapping your arms around all parts of the problem. The integration and control it demands are in contrast to the modular approach of assembling off-the-shelf components into a good-enough configuration.
There are times and places where modules are adequate and times and places where they aren't. The decision depends on whether you are creating new experiences or new "measures of performance" vs. optimizing for cost within existing experiences or measures of performance.
The very notion of a microprocessor is a rejection of the discrete component designs that preceded it. Earlier computers had central processors made up of many discrete components. VLSI stands for Very Large Scale Integration with emphasis on Integration. As computing has progressed toward ambience and ubiquity the idea of using discrete components became normative again but that was not considered sufficient by Apple.
So while the "Silicon" in Silicon Valley has come to be seen as an anachronism, silicon development today means competitive advantage. The only problem is that it takes years, decades even to establish competence. The same duration that it took for the building of Apple as a design-centric business fronted by Jony Ive.
Apple also now needs to be understood along the dimension of silicon-centric engineering as led by Johny Srouji.
Notes:
Trailing 12 months' PC shipments 265 million. Equivalent iOS devices 281 million. Not included are Apple processors in Apple TV. [↩]
Sep 29, '17 7:59 AM
It was a pleasure to spend a day with Henrik, the leading tech journalist in Denmark, and the Micromobility Summit at the Techfestival in Copenhagen.
We did the recording live in front of a large audience the evening after the event and it is already causing a stir in Denmark. I think it's worth a listen (about 30 min.)
Here is a link:
Podcast with Henrik Føhns
There is a short Danish intro, which Henrik did while riding his bike.
techtopia.dk (Danish).
Sep 29, '17 7:36 AM
Mailbutler, the leading productivity enhancing email software, which has already conquered Apple Mail, has now become available for Gmail, too.
Mailbutler keeps native interface of your favourite email client, and improves its functionality by adding to it an array of helpful tools. For example, Mailbutler does:
Send Later: Emails can be scheduled to be sent on preferred date and time
Snooze: Snoozed emails temporary disappear from the Inbox and pop up again at your preferred time
Tracking: Mailbutler provides information about when, where, and how often the email or the included link has been opened
Notes: Create and attach notes to your email messages,
and so much more…
Mailbutler users are able to process emails faster and more effectively, saving hours a day for other tasks. The brand new version, Mailbutler 2.0, has some exciting changes, and is now available as a public beta. Learn more and test it yourself!
Sep 26, '17 6:32 PM
Since the iPhone launched 10 years ago, 1,253,000,000 units have been sold.[1] Given that they don't last forever, we can assume that only the most recent units sold are still in use. If we measure just the units sold in the last 3 years, the total is about 663 million. Rounding down, we can say that there are perhaps 650 million iPhones in use.
Repeating the exercise for the iPad but extending time in use to 4.5 years, gives a population or install base of about 240 million.
That's a total base of 890 iOS million units, well below the 1 billion total "active devices" Apple reported in January 2016. The difference can be filled by Apple Watch, Apple TV, iPods and Macs.
Apple also reports that the iPhones get unlocked 80 times per day. That figure was also reported in early 2016. We don't have a figure for the iPad but I'm going to take a guess of 15 unlocks per day on average. Feel free to argue about these figures in the comments below.
Now, if each of these iOS devices would be unlocked using a 4-digit PIN, the time to bring them into use would be about 2 seconds. Expanding to a 6-digit PIN would probably increase that to perhaps 2.5 seconds (accounting also for failures due to input errors.)
Moving to 6 digits, although more secure, would add friction and hence time to the unlock process. This reminds me of the story of Steve Jobs arguing that decreasing boot times for the Macintosh would save lives. I wondered what would be the savings in time for speeding up the unlock process.
It turns out that, based on the installed base numbers, moving to the more secure 6-digit code would add 2.8 billion hours to the total time to unlock the world's iPhones and iPads. That's 321,000 years of waiting added for every year of use.
Fortunately we got Touch ID to replace PIN entry and the time to unlock the iPhone/iPad has decreased to perhaps 1 second, saving 5.6 billion hours of unlock time vs. 4-digit PIN.
Now we have the prospect of Face ID which promises to be faster still. Of course, it won't be available on all iOS devices for some time, but if it that base of 890 million iOS devices were to migrate to Face ID and if it took a mere 0.5 seconds to unlock, Face ID would save nearly 8.5 billion hours of time that otherwise would be spent typing unlock codes.[2]
That's almost a million years.
That's 12,500 lifetimes.
I'm glad to see Steve's ideas continue to motivate Apple engineers.
Notes:
This includes the current quarter that ends in 4 days [↩]
Given this methodology one wonders how much time is spent using, rather than just unlocking, iOS devices. I'll leave that as an exercise to the reader. [↩]
Sep 25, '17 12:01 AM
Apple is now the biggest watchmaker in the world, overtaking Rolex during the last quarter. This achievement happened less than two and a half years after Apple entered the watch market. Rolex, on the other hand, was founded in 1905, 112 years ago at a time when watches were the avant-garde of technology. Given this revelation of sales, we can test the estimates I put forward on the Apple Watch sales, shown below: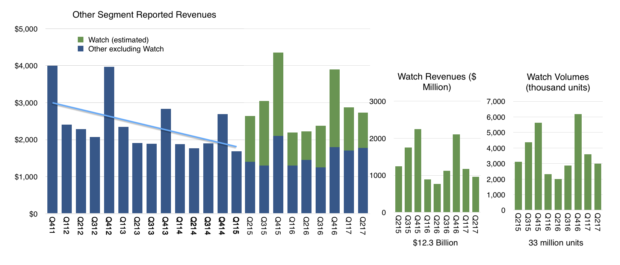 We know that Rolex produces about 1 million watches a year and we also know that Rolex had sales of $4.7 billion in 2016. The average revenue per watch[1] was therefore about $4,700.
My estimate has been that Apple sold about 15 million Watches in the last 12 months at an average price of about $330. This puts the Apple Watch revenue run rate at $4.9 billion, indeed above Rolex.
They may be slightly high but the news makes me feel quite comfortable in my methodology. Note also that within the last quarter Apple said sales for the Watch increased by 50%. This is also reflected in my estimate of 3 million in Q2 vs. ~2 million for 2016 Q2.
Overall, about 33 million Apple Watch units have been sold since launch and they generated about $12 billion in sales. Coupled with a 95% customer satisfaction score, altogether, this has been a great success story. But only 2.5 years in, it's still act one.
To understand the long term trajectory, it's important to qualify this product as part of another, larger story. The Watch, even with LTE, is an accessory to the iPhone. It still cannot be activated without it. Even the coverage plan is an extension to an iPhone plan. The company is careful to address it as a companion product.
But how long will that last?
Notes:
Includes services such as repairs [↩]